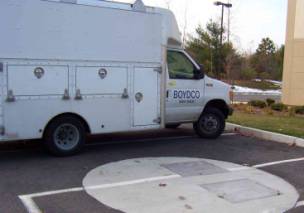 Boydco's Service Truck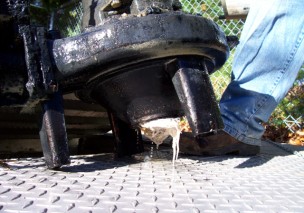 Upland Street, Holbrook MA: Clog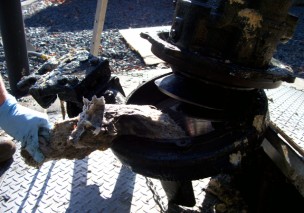 Upland Street, Holbrook MA: Clog Removed
Want to REDUCE CLOGGING?
Even though the material put down the drain might not clog your drainage system doesn't mean it won't clog your pump. Not all products should be flushed down the drain. Costly repair calls can be lessened if conscience decisions are made.
Any item or material that doesn't break down easily or naturally will have more of a chance of clogging a pump.
Having Grease Build Up?
Having your well cleaned periodically will help reduce grease build up resulting in a more efficient pumping station.
Is Your Pumping Station Failing?
Over time pumps, valves, and piping breakdown and need to be repaired or replaced. Call us for an evaluation and quote of your pumping station today.
Protect Your Investment
Service & Maintenance
24/7 Service
Emergency? Call 401-438-6900 and follow the prompts to leave a message and someone will return your call within 20 minutes.
Boydco not only builds prefabricated sewage pump stations, water booster stations, and complex specialty pump applications we also service and maintain them. We maintain over 100 stations in the area to keep them in proper working order. We take great pride in our workmanship, products, and our ability to deliver quality and excellence to our customers.
Maintenance Contract
Service costs listed below are for maintenance customers only.
By having a preventative maintenance contract in effect, your repairs are automatically given a higher priority than if you were strictly on a 'call' basis. Maintenance contracts help to ensure that the expensive mechanical equipment you have in place is inspected, operated, and maintained so there will be a minimum of down-time or unscheduled repairs. These are always inconvenient and quite often more costly than if the problem had been attended to earlier. This preventative maintenance contract does not include any parts or labor not specifically mentioned below. For more information on setting up monthly or quarterly maintenance, contact Chris Briere at 401-438-6900.
The work performed at each visit would include:
In compliance with OSHA'S 29 CFG part 1910 enacted 4/15/93 which dictates the entrance procedures into a confined space area, a pre-entry report and checklist will be performed. Maintain "Safe" job site for non-permit operation and entry.
Operate, inspect, and verify all electrical control circuits for proper operation.
Record pump amperage and voltage on all phases of the system, compare with specification, and report variances.
Check, inspect, and operate all mechanical equipment including manual operation of floats to check for proper alternation.
Test operation of check valves.
Check for proper operation of alarm equipment, if applicable.
Replace burned out light bulbs in control panel.
Inspect system for loose bolts and correct as required, (where accessible).
Check all joints and connections for leaks or cracks, (where accessible).
Inspect pumps for fractures, corrosion, leaks, etc. where accessible and visually observe for proper operation.
Perform a draw-down test on both pumps to check pump performance.
A copy of maintenance report sent to you after each visit.
This preventative maintenance contract does not include any parts or labor not specifically mentioned above. Any other parts could be furnished to you at a discounted price. Any labor not covered in the contract would be billed at a repair crew rate of $200.00 per hour with a 2 hour minimum during normal working hours of 7:30 AM through 4:00 PM Monday through Friday. Any labor beyond these hours would be billed 1 1/2 times the normal rate. Any additional trips to your site would also be subject to a charge of $1.50 per mile for the round trip subject to a $25.00 minimum truck charge.
Note: There is a (4) hour minimum charge per repair crew for work initiated after normal business hours. Holiday Schedule